Holistic Healthy Living Program
The Holistic Healthy Living Program will help you prevent disease, reverse disease, manage your weight, let go of anxiety, depression, and fear.  You will learn self-appreciation, self-love and will build better personal and business relationships.  In addition, many of my clients have been able to eliminate or reduce their medication's (with physicians approval) and have created happier and healthier lives for themselves and their close loved ones.
This program is vast and client's receive a myriad of benefits and results:  often results they did not expect; empowerment, courage, change of careers, healthier relationships, less stress and more joy.
Consults are complimentary and necessary to assure you receive the maximum benefits you can from working with me on this journey to wellness.  We discuss your health history, current health, your future desires,  your health and life goals.
If you decide to journey with me to repair your health, we will carve out a program that will best suit you based on where you are now and where you wish to be.  You will make a commitment to yourself.   Benefits are varied:  weight loss, reduction or elimination of medications, less sickness, more energy, clearer thinking, better relationships, less stress, more confidence,
Many clients attend 60-minute sessions with me, twice a month (although some clients prefer weekly session) for six months (or longer for those that wish longer time with me).
We cover all aspects of his life:  relationships, health, fitness, spiritual, career, nutrition, medications, weight loss initiatives when this is appropriate, etc.  He will receive counseling, coaching, support, humor and action plans.
Each session is packed with much information, that hand-outs are provided to reference after each session (binders provided).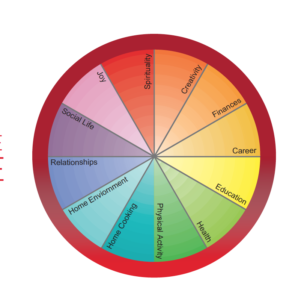 Learn to:
Learn to love and respect yourself
Overcome depression and anxiety
Become courageous and focused
Beat and/or reverse disease
Learn to eat and live a healthy life
Lose weight healthily
Sustainably maintain a healthy weight
Create your life goals and live your dreams
Create healthier relationships
This Holistic Healthy Living Program is a person-centered, bio-individual program.  You are the focus, and your history, your present, and your desire for the future are the focus points for your wellness.  On this journey we take a look at the 12 core areas (identified in the chart above) of your life and together, work on creating wellness in all areas of your life.  In functional wellness, we also look at the balance between internal (individual responses to stress, illness, personal or cultural behaviors) and external factors (learning new or adaptive strategies for current situation/s, managing your physical, emotional, spiritual, mental, environmental health).
This program also teaches healthy nutrition; what it is, how to make healthier choices and how to transition to a more energetic, overall healthier person.  This is not a diet plan, but a path to learning, with counseling and coaching to support your transitions.
Important Key to your success:  you will receive counseling, education, coaching, handouts, actions plans and a journey partner to see you through to your success.
Additional benefits:
Disease: you will learn how to prevent or reverse disease through healthy eating, attitudes and healthy living choices.
Gut-Brain Connection:  you will learn about the importance of healthy body in supporting your brain (nervous system) to ultimate brain function.
This program is vast.  Call LisaMarie for more details, or to schedule a 15 minute complimentary consult.
To see what people are saying about my Holistic Healthy Living Program, click the testimonial link on the home page, or call for additional testimonials.
A note about LisaMarie:
LisaMarie is a compassionate and wise Certified Holistic Health Counselor, and International Health Coach with 21 years of national healthcare education/experience encompassing group health, worker compensation, and pharmacy.  Upon this foundation, she has over 15 years of hands-on healing expertise.  In addition is gifted with wisdom and prophecy. She is a known and respected conduit to well-being and healing
 *Initial 20 minute consultation: No Charge