Soaring to Optimum Health ~
Dedicated to helping you become & stay well through naturopathic, holistic healing and loving services, education & modalities!  
Inspiring Wellness Solutions, LLC is a Holistic Wellness Practice providing holistic (all of you; physical, mental, emotional, spiritual, lifestyle) and bio-individual (you centered; who you are) approach.
Our functional wellness approach is a person-centered balance between internal (your responses to illness, stress, personal/cultural/society behaviors) and external factors (learning new or adaptive strategies to improve your physical, emotional, mental, spiritual and environmental health.
Inspiring Wellness Solutions ~ A Holistic Wellness Center ~ Your Excellence is our Mission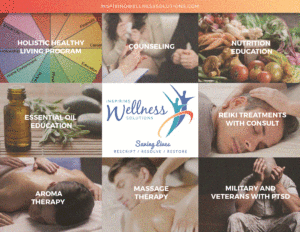 Specialties
Life Transitions, Depression, Self-Esteem, Holistic Health, Natural Disease Reversal/Prevention, Natural Weight Health
Concerns 
Relationship Changes (Separation/Divorce/Repair)
Depression, Self-Esteem, Self-Love & Acceptance
Spiritual Journey, Life Guidance & Direction
Weight/Nutrition Concerns
Treatment Orientations:  Heart-Centered, Empathetic & Compassionate Individualized approach 
Holistic Counseling, Spiritual Counseling, Holistic Living Counseling and Coaching, God based Counseling,  Motivational and Inspirational action based processes.
Individuals, Couples, Groups 
"Helping you to achieve Sustainable Wellness, Strength, Courage, Success,  Joy and Peace is my passion."                                                                                                                                             LisaMarie 
Struggling with disease, depression, discomfort, and/or are you struggling with weight, heartbreak, self-esteem?
Do you find life so difficult you simply want to give up or give in? I will journey with you to help you become holistically healthy (physically, mentally, emotionally, spiritually, socially) and to repair and restore.
Overcome disease, depression and discomfort. My clients live a sustainable healthier and happier life within a relatively short period of time by applying the principles of the work we do together. My counseling approach is direct, honest and digs deep to the root cause and is delivered with sincerity and compassion.
In addition to healing/s, my clients receive a strong education and resources to guide them throughout their life. Moreover, adding my empathic and intuitive abilities into counseling sessions, I relate to and guide my clients in ways that best serve them. One size does not fit all.
A word from LisaMarie about self-love and holistic wellness:
https://www.mediasanctuary.org/podcasts/inspring-wellness-solutions-lisamarie-tersigni/