Reiki is a healing technique which activates the natural healing processes of the patient/clients body, providing restoration, pain relief, peace, relaxation, good emotional wellbeing, and healing.
Reiki is a gentle, yet powerful energy, that is received from a trained (and certified) Reiki practitioner who became a conduit of this loving, limitless (Love Source) energy. The Energy is a natural process that has been proven to improve most aspects of life as it balances the mind, body, emotions and spirit providing wholeness and wellness.
Here are few benefits:
Relieves or Abolishes Pain
Restoration after Chemotherapy and Radiation
Clarity of Mind
Emotional and Physical Healing
Expedites Recovery: Injuries & Surgery
Wards off Disease – Builds a Strong Immune System
Provides a Positive Outlook/Optimism
Balances; provides Homeostasis within
Heals
LisaMarie is a Reiki Master & Teacher; providing healing Reiki energy to people and animals since 2002.
She was chosen and participated as a Reiki Research Professional with the Center for Reiki Research and Harvard University.
In addition, through the loving Spirit, LisaMarie often receives messages of prophecy and/or messages from her client's loved ones to assist with their healing.
Counseling is provided before and after a session.
Reiki is a healing modality that can be used anywhere, anytime. In our wellness practice, you will relax on a Reiki table, in a quiet, dimly lit room with soft music playing while your body and mind takes in the gentle, warm Reiki energy.
Reiki makes a great gift. Gift certificates are available.
Teaching:
LisaMarie teaches Reiki I, II, III and IV classes to a select group of people; those that have pure, loving intent to help others (people, animals) become healthier and in many cases heal.
April 2023 ~ beloved clients bringing in their babies & pups for special love and a little Reiki.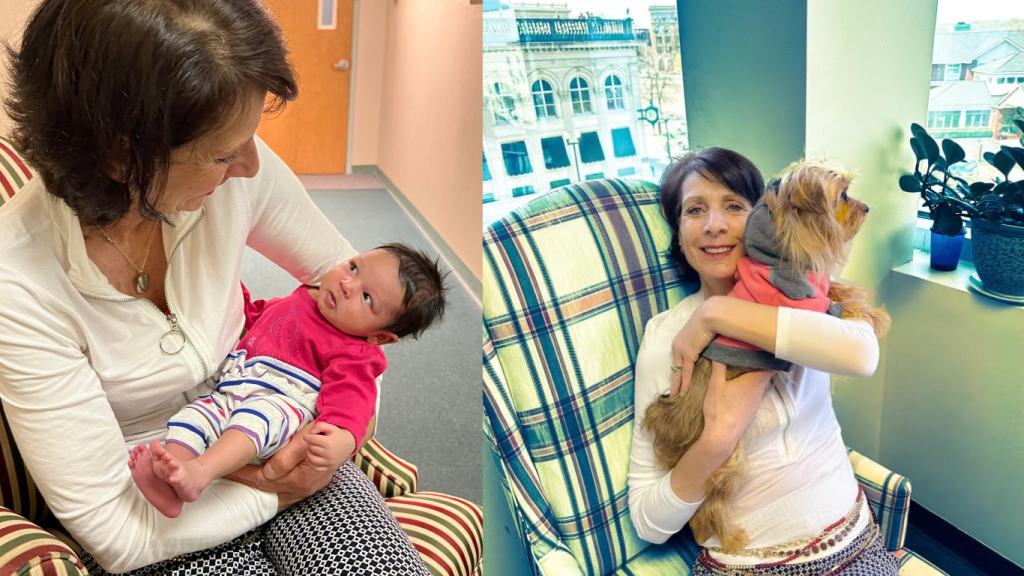 ~Babies and Puppies ARE Included! ~