The 9 to Thrive! Program is a nine month life transformative program to birth the healthiest and best version of you!
What are your possibilities when you are the happiest, healthiest, best version of you?
You enter this program with your desires, hopes and dreams. LisaMarie helps you work through challenges and barriers to become the healthiest and BEST Version of YOU!
The 9 to Thrive! Program is deeply moving, highly educational, and supportive. This program helps you transition from where you are today to where you want to be on your life journey.
This program helps you to achieve:
Emotional Healing
Reverse/Eliminate Disease
Weight Loss/Management
Reduce/Eliminate Medications
Improve Relationships with Self & Others
Change careers
More Energy
Better Focus
Improved Understanding
Overall Life Transformation
Your 9 to Thrive! journey is as unique as you are! The 9 to Thrive! syllabus provides a foundation encompassing a plethora of information, however……….and this is the key; the program flows in tune with you. It is designed to be flexible with you and your needs at the forefront, with the ultimate goal of a healthier (in any or all categories; mental, emotional, physical, spiritual) you. Listening, hearing, knowing & guiding you.
LisaMarie uses a functional wellness and holistic approach to wellness and life transformation. As holistic beings our mind, body, emotions, and spirit interact with what we feed ourselves in each of these parts, affecting our health and wellness. When we care for all parts of ourselves, we feel more complete, fulfilled, empowered, energetic, bright, healthier, happier and are better prepared to take on the world.
9 to Thrive! is a vast program packed with education, tools, techniques, love and support. It integrates informational, emotional, intellectual, experiential, and practical components, that help you see things from a new perspective. This program will give you a new bounce in your step, a better appreciation of self, and the strength and energy to realize your best self. Most importantly – to achieve your A game!
Determination, love, understanding, patience, cognitive behavioral counseling, nutrition education, lifestyle coaching, spiritual wisdom and holistic healing modalities are intertwined to bring you to:
Learn self-love, self-respect, and recognize your value
Overcome depression and anxiety
Strengthen your sense of wellbeing through positive emotional health habits
Become courageous and focused
Beat and/or reverse disease
Reduce/Eliminate Medications
Learn to eat and live a healthy life
Become energetic and stronger
Lose weight healthily and sustainably maintain a healthy weight
Speak your truth confidently
Master stress management
Create your life goals, life dreams, and design your personal health plan
Create healthier relationships
Overcome obstacles
Live joyfully
Personal Portfolio: Throughout 9 to Thrive! you will create your own personal portfolio. This portfolio is yours to keep, use as a reference, and is a keepsake of your healing-wellness journey and the progress you made!
Trinkets of Love: someone loves to give trinkets of love in celebration of you, and your special journey. Stay tuned!
Ready to build a realistic, achievable life transformational healthy life plan?
Yes? Call to set up your complimentary consultation with LisaMarie, and see where that meeting may lead you! (518) 603-0326
Hiking in & on the Adirondack and Catskill Mountains (NY) is one of Lisamarie's favorite passions. Here is a picture of magnificent Diamond Notch, October 2022. It was a spectacular fall day in upstate New York.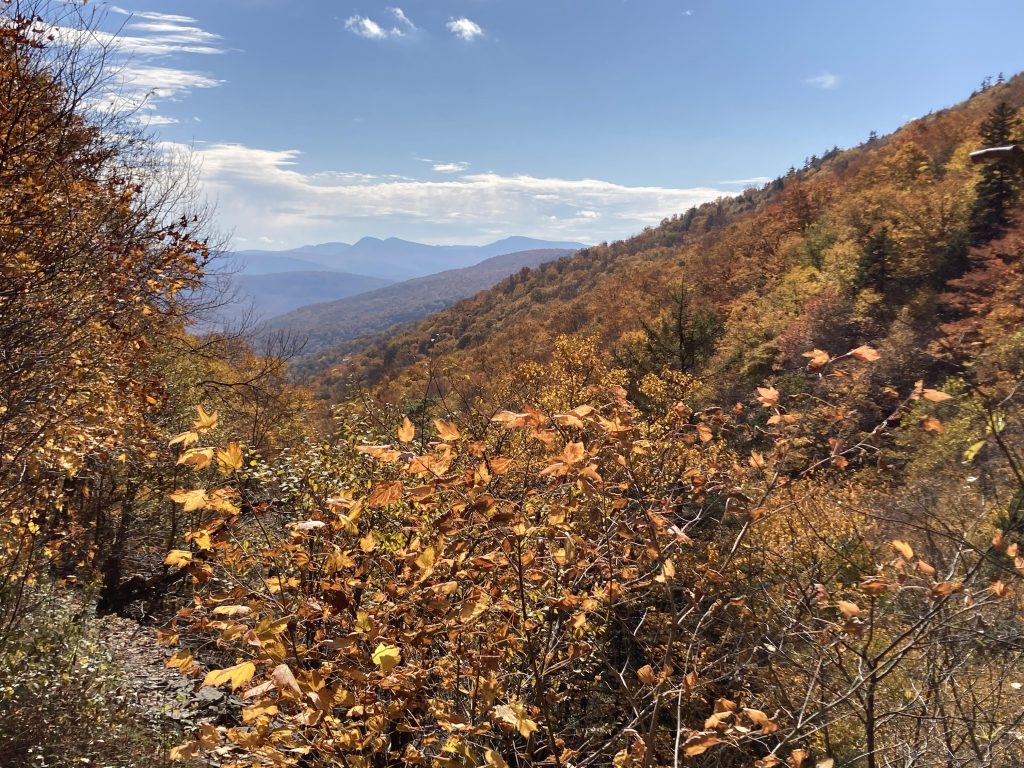 Here is one 9 to Thrive! testimonial. To see more, go to our testimonial page.
"When I signed up to work with LisaMarie, I came expecting to work on my physical health solely and thought it would be a neat and quick 2-3month process. However in the first couple of meetings with her, it was clear to me that my body's health was tied to all aspects of my life – my happiness in my then job, my core relationships, my family, my financial health, my spiritual practices – and I signed up for her 9 month program.

"Over this time, I made some difficult decisions in my life- among many other things – I slowly staged a resignation from my job and targeted a new rare opportunity that was scary to embark on, I figured out what was good for my body – a careful couple of months understanding which foods sat well in my body.

"LisaMarie helped me to take a step back and evaluate and nurture healthy relationships in my life. It's been a wonderful journey with her and cannot recommend her highly enough. Thank you LisaMarie!" ~ M. Lokko, Ph.D, July 2021